Products Category
Products Tags
Fmuser Sites
FMUSER FM Broadcast Transmitter for Sale
Date:2020/6/24 18:03:31 Hits:
"FMUSER produces a complete range of products capable of satisfying the demands of every type of broadcaster. In this guide, we will shows where the best way to choose a transmitter and where is possible to buy it in your country. "
The following guide describes the specifications to consider before purchasing and shows where to buy in your country or region. Let's discuss some of the features that we found to be most important when searching for the best FM transmitters for your you Radio:
● Core Index of FM Transmitter
● Widespread Line of FMUSER FM Transmitter
● FM Transmitters Products LINE
● How an FM Radio Broadcast System is Composed
● FM Transmitter Structure
● WHAT A BROADCASTER NEEDS FROM AN FM TRANSMITTER
● FMUSER SMP Superior Modular Philosophy
Core Index of FM transmitter
● Frequency Range: It depends on your country, typically will be in the range of 87,5-108MHz but in some countries, Russia or Japan there are different standards like OIRT ecc.
● Broad Compatibility: you need an FM transmitter that can easily be installed on your Site, Output connector, input mains connection, Audio inputs, Rack Mount are some aspects to take in count.

● Sound Quality: the key to an enjoyable listening experience is good sound quality. This is why we considered FM transmitters that were able to transmit sound clearly and to cut down on any kind of distortion as well.
● Usability: since you will be using and giving maintenance to the FM transmitters for many years, it is imperative that they are simple to use and to maintain, even if you are alone on the Radio Station Site and need to transport by your self some spare parts or the complete Transmitter.
● Architecture:The FM Transmitter can be Compact, Semi Compact or Modular, in the Modular type the several stages RF amplifiers are combined. In this case, the type of combiner used must be take in count.

Range of Power
FM Transmitter with output power of:
30 watt, 50 watt, 100 watt, 150 watt, 250 watt, 300 watt, 500 watt, 600 watt, 700 watt, 1000 watt, 1200 watt, 1500 watt, 2000 watt, 2500 watt, 3000 watt, 3500 watt, 5000 watt, 6000 watt, 7000 watt, 10000 watt, 15000 watt, 20000 watt, 30000 watt, 40000 watt, 50000 watt, 60000 watt, 70000 watt, 80000 watt, 30W, 50W, 100W, 150W, 250W, 300W, 500W, 600W, 700W, 1000W, 1200W, 1500W, 2000W, 2500W, 3000W, 3500W, 5000W, 6000W, 7000W, 10000W, 15000W, 20000W, 30000W, 40000W, 50000W, 60000W, 70000W, 80000W, 1kW, 1,2kW, 1,5kW, 2kW, 2,5kW, 3kW, 3,5kW, 5kW, 6kW, 7kW, 10kW, 15kW, 20kW, 30kW, 40kW, 50kW, 60kW, 70kW, 80kW
FAQ
Often people has many questions about where and how to buy an broadcast equipment, in some countries there are no too much distributors an people has many qyestions about it:
● How much is an fm transmitter cost?
● Where can i buy a fm transmitter? or even, Where to buy cheap FM transmitter?
● Where can i buy a cheap fm transmitter
● Where to buy FM transmitter near me, in some countries this is not easy
● Where to buy fm Radio Transmitter
● It's easy Buy FM Radio Transmitter
● It's convenient to Buy FM transmitter in Internet?
● How much is the Cost of FM Radio Transmitter
● Fm transmitter buy online or in a local distributor?
● There are close to me Stores that sell FM transmitters
● What stores sell FM transmitters in my countrie?
List of places
if you don't have a FMUSER distributor close to you you can always contact us through our web site: https://fmuser.net/
Continents and Regions where is possible to buy our line of FM Transmitters:
Greenland, North America, South America, Europe, The Middle East, North Africa, Sub- Saharan Africa, Asia, Southeast Asia, The Pacific Islands, Australia, Central America, Africa, Eastern Europe, European Union, Middle East Oceania, The Caribbean.
Countries where is possible to buy our line of FM Transmitters:
Afghanistan, Albania, Algeria, Andorra, Angola, Antigua and Barbuda, Argentina, Armenia, Australia, Austria, Azerbaijan, The Bahamas, Bahrain, Bangladesh, Barbados, Belarus, Belgium, Belize, Benin, Bhutan, Bolivia, Bosnia and Herzegovina, Botswana, Brazil, Brunei, Bulgaria, Burkina Faso, Burundi, Cabo Verde, Cambodia, Cameroon, Canada, Central African Republic, Chad, Chile, China, Colombia, Comoros, Congo, Democratic Republic of the, Congo, Republic of the, Costa Rica, Côte d'Ivoire, Croatia, Cuba, Cyprus, Czech Republic, Denmark, Djibouti, Dominica, Dominican Republic, East Timor (Timor-Leste), Ecuador, Egypt, El Salvador, Equatorial Guinea, Eritrea, Estonia, Eswatini, Ethiopia, Fiji, Finland, France, Gabon, The Gambia, Georgia, Germany, Ghana, Greece, Grenada, Guatemala, Guinea, Guinea-Bissau, Guyana, Haiti, Honduras, Hungary, Iceland, India, Indonesia, Iran, Iraq, Ireland, Israel, Italy, Jamaica, Japan, Jordan, Kazakhstan, Kenya, Kiribati, Korea, North, Korea, South, Kosovo, Kuwait, Kyrgyzstan, Laos, Latvia, Lebanon, Lesotho, Liberia, Libya, Liechtenstein, Lithuania, Luxembourg, Madagascar, Malawi, Malaysia, Maldives, Mali, Malta, Marshall Islands, Mauritania, Mauritius, Mexico, Micronesia, Federated States of, Moldova, Monaco, Mongolia, Montenegro, Morocco, Mozambique, Myanmar (Burma), Namibia, Nauru, Nepal, Netherlands, New Zealand, Nicaragua, Niger, Nigeria, North Macedonia, Norway, Oman, Pakistan, Palau, Panama, Papua New Guinea, Paraguay, Peru, Philippines, Poland, Portugal, Qatar, Romania, Russia, Rwanda, Saint Kitts and Nevis, Saint Lucia, Saint Vincent and the Grenadines, Samoa, San Marino, Sao Tome and Principe, Saudi Arabia, Senegal, Serbia, Seychelles, Sierra Leone, Singapore, Slovakia, Slovenia, Solomon Islands, Somalia, South Africa, Spain, Sri Lanka, Sudan, Sudan, South, Suriname, Sweden, Switzerland, Syria, Taiwan, Tajikistan, Tanzania, Thailand, Togo, Tonga, Trinidad and Tobago, Tunisia, Turkey, Turkmenistan, Tuvalu, Uganda, Ukraine, United Arab Emirates, United Kingdom, United States, Uruguay, Uzbekistan, Vanuatu, Vatican City, Venezuela, Vietnam, Yemen, Zambia, Zimbabwe,
FM
Transmit
ters
Products LINE
● FU-series, FMT-series: Low Power and

Medium Power

FM Transmitter and

FM Amplifier module & RF Pulse Amplifier
● CZE-series, CZH-series: High End Compact Low Power and Medium Power FM Transmitter
● RDS-series: RDS Radio Digital System Compact

Medium

Power and High Power FM Transmitter
● FSN-series: Medium Power and High Power Modular Architecture FM Transmitters
● FU618F-series: High Power FM Transmitter Compact Multi-bay Dipole Antenna
To better understand how the wide range of products are organized in our catalogue we can divide them by power levels and by architecture as follows

FM Transmitters Family Names by Power Level
The FM Products and Radio Station Equipment Portfolio are divided in the follows categories by power level:
● Low Power FM Transmitters: FU,

CZE, CZH

Series
● Medium Power Transmitters: FSN
Series, RDS Series
● High Power FM Transmitters: FU618F Series FM Transmitters

The modular architecture is completed with:
● High Efficiency Solid State FM Amplifiers
● Special combiners
● FM exciters and control logics
● the FM exciter can be Analogue or DDS
● both with integrated AES/EBU interface.
● FM Stereo Transmitter/Exciter
● Has built in Stereo Generator

SMP unique FMUSER Radio Equipment Architecture is every modular and able to grow in power (scalar) and the robustness.

SMP, based on combine low power amplifiers, gives the maximum output power in case of fault of one amplifier.

SMP is the Radio Station Equipment more Robust of the broadcast chain.

To better understand the benefits of it's philosophy, let us explain how it works a Radio FM Broadcast System.
How an FM Radio
Broa
dcast
System is composed
I's composed by many parts like:
● Transmitter
● Antenna
● Radio Links
● the Mains Electric Supply
etc.
…..but everybody agrees the king is the FM Transmitter.
FM
Trans
mit
ter
Structure
It is mainly composed of two parts:
● The FM Exciter, even known as FM Modulator.
● The output RF Amplifier.
When it's necessary to have High Power Transmitters this are obtained by combining two or more RF Amplifiers.

● So, the complete FM Transmitter chain is build as follows:
● Starting by an FM Exciter and then..
● This low power FM Signal is amplified by several RF Amplifiers and then...
● This combination creates a Low, Medium or High Power FM Transmission system.

● RF Amplifier

The LDMOS, the heart of any RF amplifier, is the active component that produce the amplification.

The LDMOS amplifiers the Low Output Power FM Exciter, to the high Power at the output of the Transmitter.

The LDMOS has the ability to handle high RF Power levels with a big capacity of Heat Dissipation.

On FM Radio application the maximum power handle by the LDMOS with the modern technology about 1kW or 1,5kW.

To reach higher power levels is necessary to combine them in to reach higher power levels.

The most common LDMOS devices used on the Broadcast Industry at the moment are:

● BLF188.
● BLF189. MRF1K25. MRF1K5
● and MRF1K8.
The strategy used by the Producers is to combine a number LDMOS in a single Medium Power RF Amplifier.

The RF Amplifiers output power in a range between 1kW and 6kW.

The amplifier is obtained by the combination of a variable number (between 2 and 6) LDMOS devices.

With this number of LDMOS it's obtained output powers between 2 and 6 kilowatts.

High Power FM Transmitter
It's built combining two or more Medium Power RF.

A High Power FM transmitter is obtained by the combination of a variable number, between 2 and 10.

To do this, the constructors choose between four philosophies:

● Use only one high power FM Amplifier Module.
● Combine High Power Amplifiers Modules.
● Combine Low Power Amplifiers Modules "only RF" type, it means, an RF Module without Power Supply, Fans and Control Logic.
● Combine Low Power Stand Alone Amplifiers Modules (this is the option adopted on FSN-series).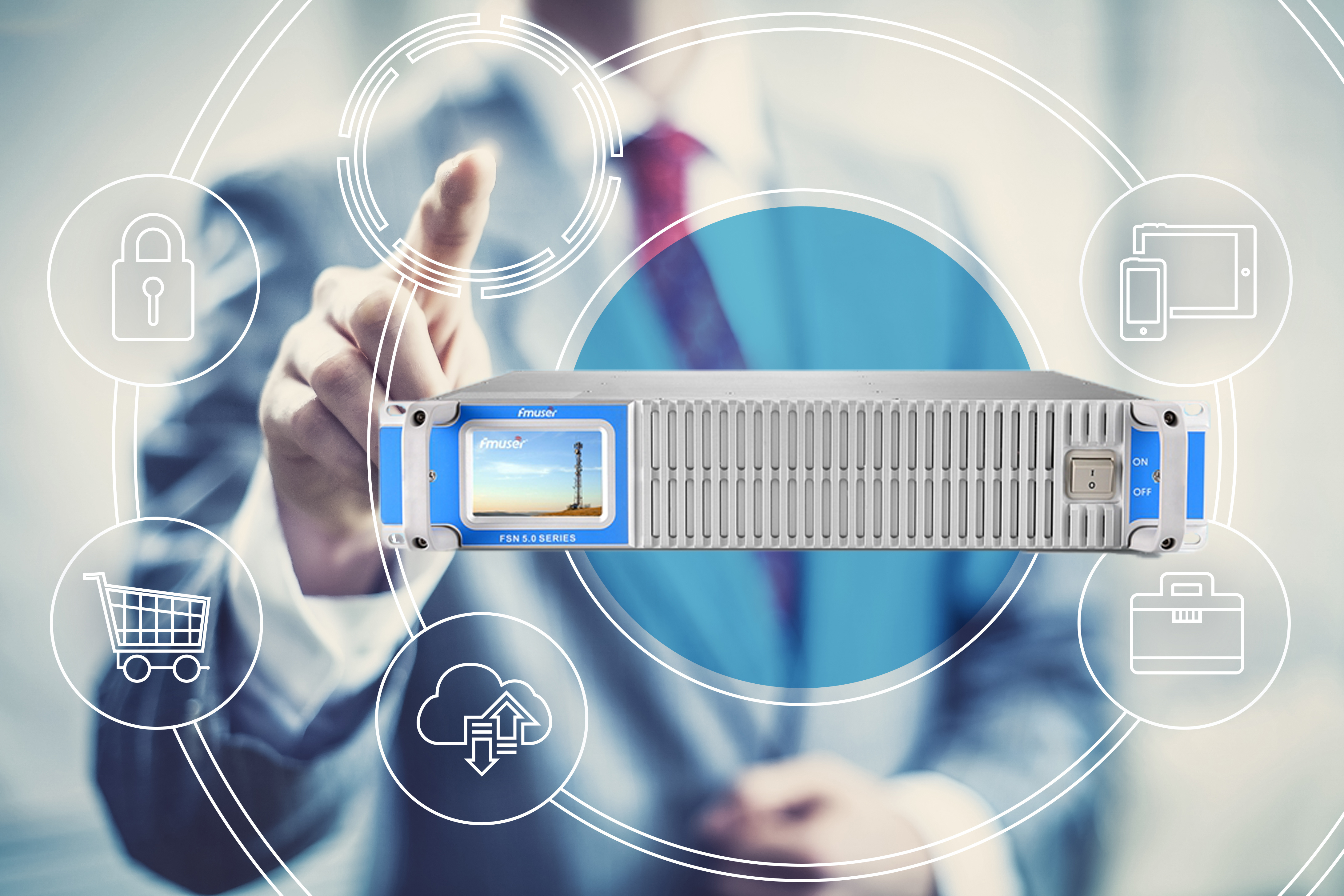 WHAT A BROADCASTER NEEDS FROM AN FM TRANSMITTER
They are few essential things, the transmitter must be:

● Always on Air: this is the main thing, nothing is more important, It must me reliable.
● Easy maintenance.
● Easy to transport and handle by one person, it avoids the needing to go two or more technicians to make maintenance
● the optimal wight is modules with less than 15 kg (35 lbs) weight,
● Low Energy consumption.
FMUSER
SMP
Sup
erior
Modular Philosophy
To full meet the Broadcaster needs, we create a modular structure with an RF Amplifier Module, obsessively optimized for best results.
Big broadcast systems benefits of this optimization.
SMP Superior Modular Philosophy is the synthesis of robustness easy maintenance and low energy consumption.
KEY FACTS
Combining System
● Compact and well isolated up to twelve way 20 kW PC Power Combiner.
● Ultra-broadband, phase stable, low loss and showing more than 20 dB of additive harmonic filtering.
● FM transmitters featuring only 800 mm rack depth and up to 40 kW FM in a single 19" rack.
● Digital TV Transmitters up to 8 KW Wide Band Doherty (WBD) output power in a single 19" rack.
WEB/SNMP Telemetry and Remote Control
●

Full Local or Remote control by by logon username and password.
●

Remote control with Smartphones or Tablet.
●

Host Logic and tele-measurement (TM, TC & TA).
●

Remote control and monitoring via SNMP and/or WEB interface.
●

With logbook or log file to record error or alarm message.
●

Display of forward/reflection power value and reflection high alarm.
Human
Interface
●Multilingual user guidance.
●High Definition, high contrast LCD display.
●Quick set of thresholds for protections level.
N+1 and
Backups systems
●Conventional standby systems such as: exciter standby, (n+1) Transmitter standby, passive standby and active output stage standby can be implemented.
●No additional control units are needed for the exciter standby and the active amplifier standby.
From Low Power to High Power FM Transmitter Series Standard and HOT PLUG-IN versions
● Analogue and Digital Ready for HD Radio and DRM
● Based on CELL Series High Efficiency RF Amplifier Module
● CELL LDMOS Amplifiers 1,1kW or 2,2kW
● Hot Plug-in Power Supply
● Up to 75% Overal Efficiency
● PLANAR LDMOS
● 65:1 VSWR Tollerant
● Fully RF and Power
● Supply
● Redundant TXM SMP
REVOLUTIONARY MODULAR COMBINER BROKEN THE PORT NUMBER LIMITS.
● Ultra Compact Design.
● Low power to high power direct stepping.
● Low loss.
● Non Hierarchy Arbitrary odd and even port number.
● Ground referred balancing loads.
● Extremely high isolation value: more than 26dB.
● Up to 10 input way for 20 kW Output Power.
● Ultra-wideband, exceeds more stringent specifications.
● Phase stable.
● Best in class low loss performance: less than 0.1dB
● More than 12 dB of additive harmonic filtering.
● Low Cost vs Power ratio.
The Combining system is composed by the COMBINER itself, the ISOLATED SPLITTER 2-10 way and the UNBALANCED POWER LOAD 2-1
If you want to purchase any FM/TV euipments for broadcasting, please feel free to contact us by Email: zoey.zhang@fmuser.net.?

Leave a message
Message List